Mojo 3 is a Swiss music agency with a global mindset. We believe that MUSIC is essential to our being and nothing creates similar emotions – it can connect people, trigger memories or just leave you in awe. Our headquarters are based near Zürich, the heart of Europe. With studios in Bern, Zürich and Berlin and one of Mojo 3's partners based in San Diego, California – we offer a truly international network.
Mojo 3 combines a set of services that is unique in concept, backed with expertise, experience and proven results. We strive to be on the cutting edge of music and music production (including technology) without forgetting our roots. We are a relentlessly progressive company that knows what's inside the box but prides itself on thinking outside that famous box.
Mojo 3 writes and produces music for film and advertisements as well as for artists and bands. We assist film or advertisement projects as music supervisors/consultants, helping to develop music strategies for brands and events. We consider ourselves a music agency that can handle projects of any size or complexity. Rounding out our service package we work as a local and international publisher and publishing administrator for many rights holders.
Team

Pashi Muenger
pashi@mojo3.org
Pascal co-owns and manages Ambulance Recordings and Waterfall of Colours – two record labels and one killer music promotion company based in Zurich. He writes for his own band Spencer and was part of the acclaimed rock band "Redeem" touring multiple times through Europe with bands like 3 Doors Down or Daughtry. With his background in journalism, he is our marketing and promotion guru and the man who runs Mojo 3 like a tight but fun ship with energy that could ignite a fire under water. He is also the proud Dad of a young son.

Pirmin Marti
pirmin@mojo3.org
In 10 years Pirmin has worked on 70 Swiss films and many advertisement projects as a music supervisor and music consultant. His Pirmin Music "sync" service has licensed hundreds of songs from its catalog and his publishing company controls such compositions as "Soulshake" (in Switzerland known as "Giggerig"). Pirmin's background is in sales, marketing and project management. However, a little known fact is that he has co-wroten songs with artists/writers as diverse as Knackeboul and Gölä, but don't you worry – not the hits 🙂 He is a huge supporter and fan of the local Swiss music scene and is co-owner of Swiss Treasure Recordings, which focuses on releasing (older) Swiss music that has not made it into the digital age. He resides in San Diego.

Luk Zimmermann
Luk co-owns Influx Studios in Bern and Berlin where he worked and lived for 10 years until 2016. He has scored numerous commercials and with "Herbstzeitlosen" he scored the most successful Swiss film ever! He has been the writer/composer/guitar player for the band Lunik (three number 1 Albums in Switzerland, Top 30 Germany etc.) and has established himself as a sought after producer, mixer and songwriter. He owns the indie record label Sophie Records and in 2017 launched the Sputnik Songwriting Camp which will be held annually. Luk heads up our music composition and production team and believes he is the most talented soccer player of the Mojo 3 bunch while being the proud Dad of a young daughter.

Extended creative team
Slade Templeton
Slade Templeton is part of Influx Studios and works as producer, songwriter, engineer, remixer and successful mixing and mastering engineer. As a DJ under the alias "Defunct!" – a pioneer of the Fidget House genre – he toured over 20 countries as the headline act for years before he decided to settle and focus on production and engineering. Check out Slade's follow-up project/band "Crying Vessel" (Post Punk, Gothic, Wave). Additionally he is affiliated with Black Octopus Sound – one of the leading Sample Pack, Prest and Loops companies – as a Content Contributor, Lead Mastering Engineer. Slade works exclusively for Mojo 3 and in his barely existing social life he is enamored with Madeira port wine.

Heidi Happy
The Swiss singer and multi instrumentalist started her career in 2006 and was immediately embraced by the crowd for her warm and tender voice and her unique songwriting. She's looking back at collaborations with big names like Yello, Stephan Eicher or Scott Matthew, various chart placements (Top 10 in the Swiss Album Charts and Top 200 in the CMJ Charts among others) and hundreds of shows both in Switzerland and abroad. While studying audio visual arts at the Gerrit Rietveld academy in Amsterdam (NL), Heidi started composing film music. Since then she's built her own film music universe – diverse, playful, fragile and subtle that includes fully orchestrated pieces, tender songs or hard hitting electronica and heavy metal! Her one of a kind voice being another amazing creative tool that stands out as well.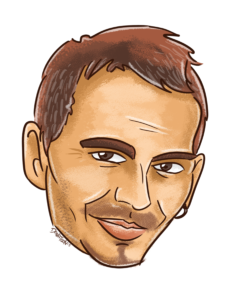 Pele Loriano
Pele Loriano owns his own studio in the center of Zürich and has produced many successful records and singles for artists such as Sina, Trauffer etc. and in recent years has focused on electronic pop music that is very much on the pulse of today's taste. He works as music director for big TV shows like "The Voice of Switzerland", "100% Schweizermusik", "ESC". Through his collaborations throughout the world he is connected to numerous Nr. 1 Songwriters in Europe and USA and has established himself as an international sought after writer/producer with hits in Germany, Belgium, Poland, Spain etc. He has also been running a very successful songwriting camp that has provided 4 of the 6 final songs in ESC Entscheidungsshow 2018 and the winning song 2018. He has scored numerous TV commercials and will work exclusively for Mojo 3. In his rare spare time, he is a big supporter of italian wine and a passionate cook.

Credits
Logos & Artwork: Matthias Joller
Cartoons: DanaToons, San Diego
Website & Design: SERIAL SA, Zürich